Overview
Mercy Corps NW's first Community Investment Trust is the East Portland CIT, located at Plaza 122, a 29,000-square-foot mid-century commercial retail mall in outer Southeast Portland with approximately 26 to 30 businesses and nonprofit tenants. Three hundred to 500 Portland and Gresham residents within four zip codes (97216, 97233, 97230, 97236) can follow a long-term path to collective ownership of this building in their neighborhood for as little as $10 and up to $100 per month.
To be eligible for the Plaza 122 CIT, you must:
Live in zip code 97216, 97230 ,97233, or 97236
Be at least 18 years old
Have a tax ID number (TIN)
Take the CIT "Moving from Owing to Owning" class
Plaza 122
29000

Square feet

1962

Built in

Commercial Property

26

Current tenants

>90%

Occupancy

Portland, Oregon
The community that Plaza 122 interacts with encompasses the Mill Park and Hazelwood areas located in East Portland. These neighborhoods are known for their family friendly atmosphere with nice residential areas, public parks, and quick access to downtown Portland. Folks in this area have the pleasure of using the East Portland Community Center (EPCC), as well as the Midland Library. In addition, the Mall 205 shopping center allows access to an array of shops and stores. These neighborhoods are also home to the David Douglas School District, an independent and thriving public school system outside of Portland Public Schools.
Learn, Invest, Profit

You will the LEARN principles of personal finance in our interactive "Moving from Owing to Owning" class that covers budgeting, financial goal setting, the importance of good credit, and the risk & rewards of investing.
After taking the class, you can sign up through our online investment portal to INVEST $10, $25, $50 or $100 per month. Each month, this amount will be automatically withdrawn from your bank account to purchase shares in the CIT.
Investors will PROFIT through

Dividends. Plaza 122 is strip mall with approximately 26 tenants. Tenants pay their rent; the CIT pays expenses for the property. The dividend per share will be calculated based on the CIT's taxable income and cash flow. The CIT Board is required to declare a minimum annual dividend of no less that 2% of the share price.
Share Price appreciation: The share price of the East Portland CIT will be set each year based on the equity of Plaza 122. Each year, the Board will set the new share price based on a formula that is a function of the change in appraised value, reduction in indebtedness and number of authorized share. The CIT Board may also apply a discount rate to the change in appraised value to ease dramatic share price changes from year to year.
Letter of Credit backing: The CIT shares represent a unique real estate investment for neighborhood investors as they are fully liquid through a letter of credit issued by a local community bank. As a result, while investors are incentivized to invest over the long-term, they also have the ability to access their investment in the event of a financial crisis.
Featured Tenants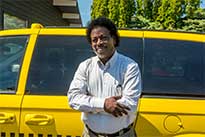 PDX Yellow Cab
PDX Yellow Cab is a company straight out of the handbook of the American Dream. Dawood Ghedi, the taxi company's manager, explained that restrictive permit policies used to keep him and his fellow drivers locked into long hours, high fees, and vacationless time while working for another company, always afraid of additional charges or losing their 'spot' for the right to work.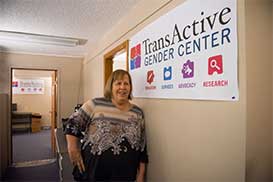 TransActive Gender Center
For nearly ten years, TransActive Gender Center has provided essential services to transgender and gender diverse youth, their families, and communities. Jenn Burleton, the organization's founder and executive director, explained the range of essential services provided, from counseling individual youth to policy advocacy and trainings in over 200 schools in the last five years.
Faby's Hair Studio
Faby's Hair Salon occupies a brightly lit corner spot at Plaza 122. Faby Nunez and her team of six employees have been in this location for four years, and have utilized its street visibility and positive energy to expand the business and offer excellent haircuts and nail services to many loyal clients.